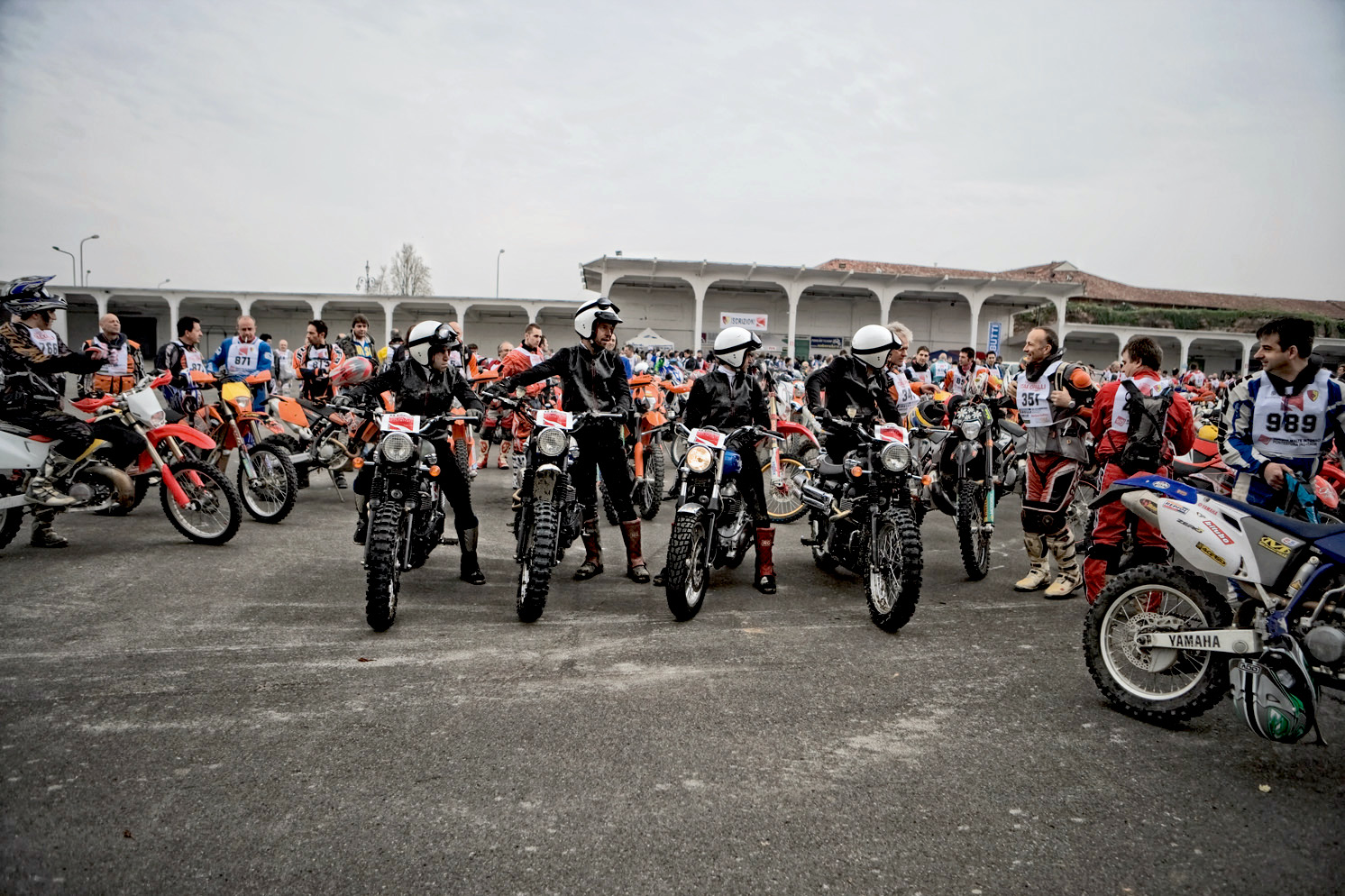 Post nr.000_001 April_2018_I
• Happened in April 2009.
We left Milano with Roberto's long-bed old Us Army PickUp truck, packed with brand new Triumph Bonneville motorcycles, customized on purpose into scrambler machines.
In that long gone era, every year, the non-competitive Enduro race "Cavalcata del Monferrato" used to take place onto the hills around Casale, a little town in te Piedmont countryside, NorthWest of Italy.
A number of almost 1500 enthusiasts, fully and colorfully (yewk!) equipped along their almost 1500 motorCycles, were able to gather there, filling up every possible corner like sand in a bottle, ready to Storm up and Down any possible available bump, climbing ravines and plowing cakes of very Sticky and slippery mud (rain had been pouring for days).
We were there as well (out of any series) scared by the folks and by the first serious Off-road experience, on a glorious one-of-a-kind Suzuki Drz 400 (ValentiRacing by the way…), that made us able to follow the race taking driving lessons at the same time.
The racing "Team" (builded up by "the Director", with special friends, much more than just talented Riders) was parading in high uniform designed and produced by Biondo (yes, us in person…), as new entry for the apparel market; That was not exactly what someone could expect as the proper Gear for such a competition, but, indeed, that was perfectly in tune with the Bikes & our Souls.
There was no comparison with the overColored humans with tons of mostly unuseful Gadgets:
a Slim and Dark leather Jacket We were wearing, with three layers Cordura sleeves, pristine white technical Turtle neck and "Carabiniere" style tight and stretch trousers.
Main picture barely depicts that moment…, but we were Sleek and beautiful and Brave (!), we all completed the Route, and, most of all, that was our very Start.
The_Biondo